SUMMER BREEZE COTTAGE

is your home away from home!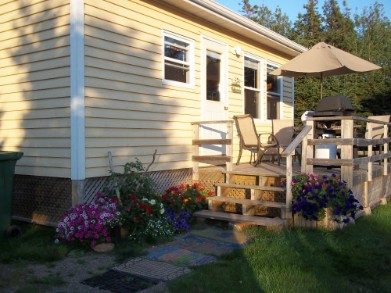 Summer Breeze Cottage is a 2 bedroom executive cottage with hardwood floors throughout. There is a king size bed in the master and a double bottom bunk bed in the second bedroom. It has electric heat throughout for the cooler off-season and air-conditioning for the hot summer days. All appliances including dishwasher, washer and dryer are new. See the pictures below.

The location is in beautiful Stanhope, Prince Edward Island, the smallest province in Canada. It is a 5 minute walk to miles of sandy National Park beaches and biking trails. Check out the links at the bottom of the page for more about the National Park beaches and information about things to do while visiting PEI.
Stanhope Golf and Country Club is a beautiful 18 hole golf course that is a 5 minute walk from the cottage.
Summer Breeze is well equipped with everything you need for your vacation at the beach. We supply a barbeque, all kitchen supplies, quality bedding, towels including beach towels, beach chairs, beach pass to the National Park. If there is anything you need, just ask!
Wireless Internet, telephone, cable TV, and DVD player are amenities at Summer Breeze Cottage.
Off season rates are $800. weekly
July and August are $1200. weekly.
Contact us at

stanhopesummerbreeze@gmail.com

-
contact us now
!
Customer Reviews
Michele L
Fredericton, Canada
"A Little Piece of Heaven"
This was our third time stay in this cottage. We love the quietness and peacefulness of the place. It faces a big wheat field and it is only a short walk to the most beautifull beach. The owners also include a free pass to all the beaches on PEI. This cottage is well equiped with everything you would need for a perfect vacation... including a dishwasher, washer and dryer. We always enjoy Cow's ice cream and a visit to the drive-in. Definitely returning next year!
Thanks Kim and Ray!
aLongLongWayFromHome
Melbourne
"Bright and clean cottage in great location"
We enjoyed our stay at this cottage very much. It had everything we needed, including beach chairs and beach towels as well as bathroom towels and good quality linens. The kitchen was well equipped and the whole cottage was very comfortable. The location was great in a quiet little lane off a dirt road. The walk to Stanhope beach was no more than 10 minutes. The location of the cottage was ideal for our family with lots of space and peace and quiet. If we get back to PEI, we would definitely stay here again.
"Home away from home!"
My husband and I spent an amazing week at the Summer Breeze cottage! The owners, Kim and Ray Gallant, were excellent hosts. The cottage has everything you need to enjoy your stay, which makes packing a lot easier. We loved that we had access to bikes, beach chairs/umbrellas/towels, full kitchen, washer/dryer, a/c, and wireless internet during our stay. We loved the nice quiet location, but also the fact that most of the attractions we were interested in seeing were around 30 minutes or less in driving distance (Charlottetown, The Dunes, Brackley Drive-In, Watermark Theatre, Great Canadian Soap Co., New Glasgow Lobster Suppers, etc.). A few attractions were a bit further away (Anne of Green Gables sites, College of Piping, and Basin Head), but they were well worth the trip.

If we return to this part of Prince Edward Island, we will definitely stay here again!
Date of stay: Jun 2011

Title: Relax and Dream
Overall Experience: 4 out of 5 (Above average)
Testimonial:

"I stayed stayed at Summer Breeze and found a gem of relaxation. Our hosts were perfect, they catered to all of our needs and answered all our questions. Being able to walk to one of Canada's world famous beaches, was a highlight of my stay. Leave your stress at the airport or at the bridge and immerse yourself into a piece of paradise. Summer Breeze caters to all ages. Coffee on the deck in the morning or a drink at sunset to reflect on the day's adventures was a treat. Hope to be back very soon. The R & R I needed, thank you Summer Breeze!!!" Luis

Date of stay: Aug 2011

Title: Beautiful cottage!
Overall Experience: 5 out of 5 (Excellent)
Testimonial:

"We had a lovely stay at the Summer Breeze cottage. It was located close to the tourist sites we wished to visit and was only 5 minutes to the beach. The washer/dryer and dishwasher were definite plusses. The decor was current and pleasant. We loved the close proximity to bike trails. We enjoyed having a TV and DVD/VCR available for our use, as well as a BBQ. The hosts are very friendly and helpful. We will recommend this cottage to family and friends." Shannon

Great quiet location in cute cottage near the beach!"
The owners, Kim and Ray were great hosts, they even went out of their way to get a bike for our young son to ride the first day of our arrival and to set up a crib for our infant daughter. All the linens were freshly washed and clean. I have bad dust allergies and almost always have sinus issues when we travel, but this cottage was great not even a sniffle! The cottage was very nice and well layed out. Our family of four filled it out very well. Everything we needed was supplied even though we brought our own such as shampoo etc. We liked the quiet and private surroundings, there is a well kept yard and plenty of room for the kids to run around. We did miss having a play structure or swing set and fire pit like we do at home. The cottage is also a quick walk (under 10min with a baby and child in tow) to a great beach and very close to other life guarded beaches as well. We also appreciated the pass to the national parks that was included. I was hoping the next renters wouldn't be able to make it so we could have stayed here longer, one week wasn't enough!
By Eldridge1978 from Kemptville, Canada on 7/22/2013 for a stay in 7/1/2013 at
"Peaceful stress free relaxing clean accommodations with friendly hosts"
We were welcomed like old friends and made to feel relaxed immediately. The cottage was clean, organized and well laid out with every amenity we needed. We enjoyed taking the bikes on long rides along the beach and through the park on easy paved bike trails. Early morning breakfasts on the private porch in the sun - so calming to hear the ocean in the distance...
It was all great!
Rick and Dale
3 Evergreen Lane, Stanhope, Prince Edward Island C0A 1P0| 902 940 4051

Stanhope,

Prince Edward Island

C0A 1P0